'08 Petite Sirah Late Harvest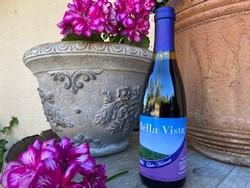 This deliciously crafted wine is a great dessert to pair with any rich chocolate. Make it jacuzzi-style and add one part of Bella Vista's champagne.
Product Reviews
Bill E.
(Jul 26, 2021 at 12:39 PM)
Well worth the price. This may have taken over as my favorote wine from Bella Vista. Open the bottle and let it breathe for an hour or two; keep it cooled to between 60 and 65 degrees and then enjoy. Definitely will purchase another case when I return.
Borie
(Nov 28, 2021 at 4:26 PM)
This is a very special dessert wine. I bought it some years ago, but if I'll go back, I will buy some more.
casino online
(Aug 7, 2022 at 11:40 PM)
Why couldn't I have the same or similar opinions as you? T^T I hope you also visit my blog and give us a good opinion. casino online